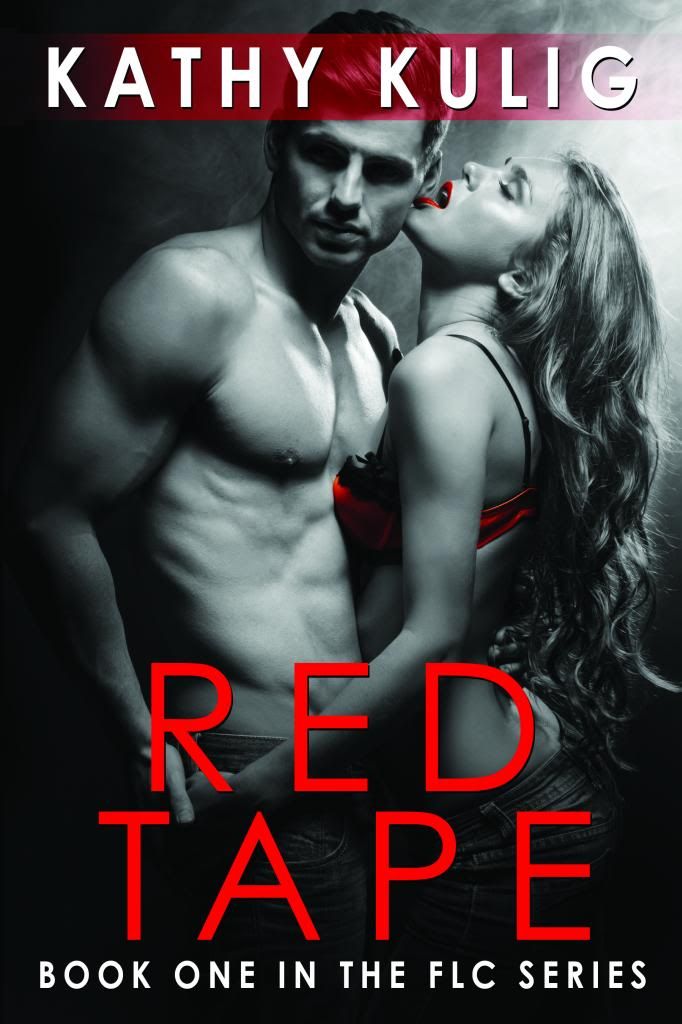 Spice Box Title: Red Tape (FLC #1) Author: Kathy Kulig Genre: Erotic Suspense Published Date: August 5, 2014 Organized by Literati Author Services
BONDAGE IN THE WHITE HOUSE

Handpicked for an underground White House society, Jason Merritt and Zoe Summers are assigned to take down a sadistic leader through the use of blackmail, coercion and sex. Former CIA agent Jason must train his ex-lover for her role as a submissive in a dangerous BDSM sex tape project. Distracted by their tortured past, he's unprepared for their reignited passion or his overwhelming need to protect her, possess her and do whatever it takes to make her his.


HE WANTS TO MAKE HER HIS SLAVE

Tough and tenacious Zoe Summers has tried to forget her former field partner and lover. She hasn't forgiven Jason, or herself, for their failed missions. The BDSM training sessions with Jason stir up deep yearnings and sparks fly. She's obsessed into exploring this realm of her sexuality, but worried it will undermine both their relationship and their project. Danger escalates when their target discovers the plan and devises one of his own. Now the two must fight and choose between life, love and National Security.

Sensual, dangerous, adrenaline-pumping…
Purchase Links
About the Author
Kathy Kulig
is an award-winning erotic romance author whose works include elements of BDSM and the paranormal. She has published several novels and novellas for Ellora's Cave. Her latest release, Summer Sins, is part of a BDSM/ménage series called Dark Odyssey.
And her upcoming release, Red Tape, is book one of the new FLC series of romantic suspense.
Besides her career in writing, she has worked as a cytotechnologist, research scientist, medical technologist, dive master and stringer for a newspaper. Kathy resides in eastern Pennsylvania with her husband.
Author's Social Media
Facebook
|
Twitter
|
Goodreads
|
Blog
|
Website
|
Pinterest
10 Things I Love About My Characters in Red Tape
By Kathy Kulig

Zoe Summers and Jason Merritt were ex-CIA agents and ex-lovers, and now they've been hand-picked for a secret organization that uses sex, scandal and coercion to manipulate some of the most dangerous leaders in the world. In Red Tape, they're assigned a dangerous project that reignites their love affair. When the mission, and their love affair, spins out of control, their target discovers the plan and creates a deadly one of his own.

Zoe's failed mission as a CIA agent continues to haunt her. She's reminded of this botched job where she almost lost her life by a ragged scar on her neck. She manages to hide it with a scarf, but she can't forget the mission or Jason. When they're reassigned together several months later, their job and relationship become even more complicated and dangerous.

Without giving anything away:

I love:
1. Zoe's vulnerability and fears, how she hides them with her kick-butt attitude.
2. Jason's sense of loyalty and love to his country and Zoe. But he's aware of the old wounds and not sure how to deal with them.
3. Sometimes Jason understands Zoe better than she understands herself.
4. Zoe knows how to stand up for herself, but she can't quite figure out how to connect with Jason.
5. Jason did leave her, but he had a really good reason.
6. Zoe and her brother have a great relationship. He's in Special Forces overseas and they have a special code they use via text/email. When he can contact her.
7. Jason believes by working closely with Zoe on this project, he'll keep her safe. He's wrong.
8. Despite her fear of failure, Zoe's good, really good, at role playing with terrorists, and can improvise as needed.
9. I love her curiosity. But it can be a strength and a flaw.
10. Jason is the type of hero who'd risk everything, absolutely everything, for the woman he loves. Isn't that a true hero?


www.kathykulig.com
RED TAPE, Book 1 FLC series
Amazon | BN | iBooks | Kobo |Smashwords
Giveaway
Pair of silver fishhook earrings with snowflake obsidian stones to give as a prize. A $20 GC of the retailer of choice (Amazon, BN, Ellora's Cave) and 5 Free ebooks of either Summer Sins or Damned and Desired. Winner's choice.